About St Lucia
Find romance, rejuvenation or adventure on a trip to Soufriere, St Lucia.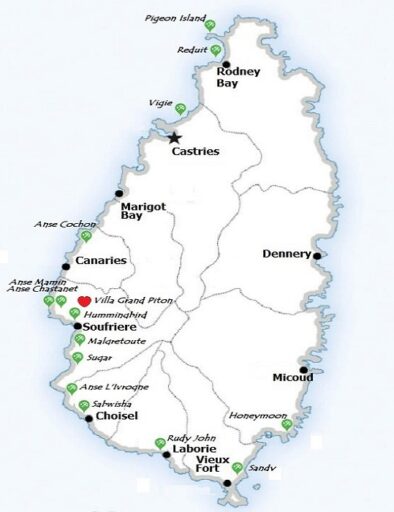 St Lucia has two distinct parts, the "north" and the "south". The drive between them can take 90 minutes (or more) each way on winding roads, so you should "stay where you want to play".
The north (Rodney Bay) is the typical Caribbean experience – lots of tourists, multiple resorts on the beachfront, restaurants, bars, a casino.  If all you care about is a beach, this is the right choice.
Soufrière is about the outdoors and stunning scenery with the impossibly-photogenic Piton mountains, serenity, snorkeling, diving, other great outdoor activities, and relaxation in addition to the beaches.
St Lucia is a volcanic and mountainous island, with lush vegetation. Bougainvillea and flamboyant trees sport brilliant colors. Banana plantations line the roads with bright blue bags protecting the bananas.  Mango trees drop hundreds of ripe orange mangoes alongside the road, just waiting to be eaten. 
As the roads wind through the island, the view plays peek-a-boo with the Caribbean and mountains and deep valleys. Residents walk along the roadside in the small villages of colorful houses. Goats, dogs, chickens and even the occasional cow share the road with vehicles.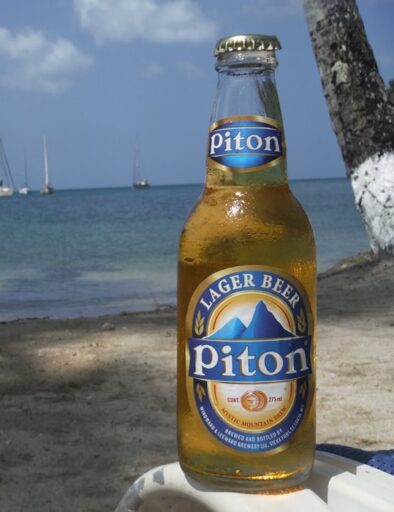 The climate in St Lucia is wonderful for growing vegetables and tropical fruits (the best bananas and mangoes we've ever had). Fresh fish, chicken, goat, lamb, pork and grass-fed beef are all local. Local cuisine is strongly influenced by Indian and Creole cuisine, but you can also find less adventurous food.  The local coffee is smooth and mild, a perfect way to start your day.
Locally-produced rum is the "adult" drink of choice. Rum punch is everywhere, but watch out, as it is very potent but goes down easy! The local beer is Piton beer – a light lager, similar to Corona, usually served ice-cold.