Our signature "Take Care of You" treatment
No time to plan your vacation or hate planning? No worries!  Here are services we can provide to make it easy on you*:
✦  An example itinerary
✦  Airport pick-up
✦  A "welcome pack" with food and beverages
✦  An on-site itinerary planning meeting
✦  Driver services
✦  Concierge services
✦  Shopping services
✦  Cooking or meal plan services
*Extra charges may apply – contact us for details
You'll need some kind of transportation to get around – we're surrounded by forest at the top of a tall hill. The roads are rough and walking down is challenging.  Back up is even harder!  Most of our guests hire our driver (he provides the vehicle, too), but  you can rent a vehicle and drive yourself around if you prefer lots of adventure!
If you want to cook, we have a well-stocked kitchen.  If you don't, our housekeeper offers cooking services for a reasonable fee.  She also has a "take care of us" plan where she does everything (plans, provides the groceries and does the cooking).  Want to eat out?  You'll find restaurants nearby, from food trucks to fine dining.
Answers to your questions
Can we get a cook? Is there an extra cost?
Our housekeeper, Doxie, can cook for you. Pricing details, including her option to do the cooking and provide the groceries, can be found here.
Do we need transportation, or can we walk to everything?
You'll need some form of transportation – either our taxi/driver service or rent a vehicle (high ground clearance required and 4WD recommended). We aren't in easy walking distance of anything, mostly because we are at an elevation of 550 feet!
Can we walk to the beach? Are the beaches public?
It is possible to walk to the beach – it takes about 25 minutes. But we advise against it. The road is steep and may be slippery due to loose gravel or mud after a rain. And it's a lot harder on the way back up – we are at an elevation of 550 feet (55 flights of stairs!). Driving is much easier and quicker – it's a short 6-8 minute drive to either Anse Chastanet or Hummingbird beach.
The beaches are public up to a certain distance from the high-water mark. Some hotels may try to discourage you from using their beach.  Tell them you know the beaches are public and then they should leave you alone. It's not clearly marked where the public part is, so please ask a hotel employee if you are uncertain.
Should we rent a vehicle or use the taxi/driver service?
We have a decision guide put together for this.  You can find it here.
Why do you say you are like a hotel?
Because you get many of the amenities of a hotel, and we can provide hotel-like services to you (e.g., cooking, meal, transportation, massages). See here for a comparison between us and a hotel.
What will the weather be like?
Warm and mostly sunny. Winter highs are usually in the low-to-mid 80's and nighttime lows are about 10 degrees lower.  Summer temperatures are about 10 degrees higher than winer. Rain, if any, is usually overnight or just brief passing showers. In the "rainy season" (June – November), there is a higher chance of a passing storm, but it's uncommon to have a day that's completely rained out.
How well does the air conditioning work?
Since our home is open air (interior walls that don't go to the ceiling, and windows that are not covered with glass) the air conditioners can't cool the rooms much. But they blow cool air on the bed to cool you a bit and make sleeping more comfortable.
May we invite people over, have a party or get married at the villa?
We do not allow parties or weddings. We may allow a small, quiet gathering, depending on the number of people, the purpose, and the hours involved. Contact us to request approval.
Our staff cleans and sweeps the house, makes the beds, changes the linen mid-week, cleans the pool, does general maintenance and landscaping, and is available in case some item needs urgent maintenance. They are there most of the day, and our night caretaker is there from about dusk to dawn. They can also advise you on restaurants and activities, and source meats and fresh fish for you, and help you make reservations.
How much should we tip the staff?
We recommend $5-$10 US per day per staff person tip for our staff if you wish to tip them. Adjust that as you feel is appropriate for the level of service and interaction you had with the person. Drivers are at or above the upper end of that, since you probably spent a lot of time with them.
Where do I buy groceries and beverages?
In the village of Soufriere.  There is a new grocery store on the far side of town and fairly-well stocked MiniMart close to the near side of town.  You can also find a bakery (mostly breads and savories; few, if any, typical US sweet breakfast pastries), a butcher, and an open-air market with fish and fresh fruits and vegetables. There are also stands on the sidewalks in Soufriere. Doxie may be able to source items for you – discuss it with her and give her a day or two of notification.
The larger stores, including a liquor store and grocery, are near the airport. You may wish to stop at them on your way to the villa.
What are the contents of the welcome pack?
It typically contains: one roti (turmeric-seasoned vegetables, with or without chicken, wrapped in a flat bread) per person, a salad, snacks such as chips and salsa, local beer, Coke, and Sprite. A bottle of Doxie's tasty rum punch will be in the refrigerator for you. We also supply local coffee ("Green-Gold") and tea for your stay.
May I bring alcoholic beverages or food into St Lucia?
Yes, you may, with some restrictions. The current duty-free allowance for alcoholic beverages is one liter per person. You may bring more than that, but you will have to declare it and pay the duty on the excess. The duty is calculated on your purchase price, so please bring a receipt for the excess volume.
We recommend that any food you bring into St Lucia is in its original packaging. Most non-perishable food is allowed in without inspection. Don't bring in raw fruits or vegetables. Poultry is prohibited, and raw meat may be held for inspection. If you wish to bring in raw meat, please contact us for advice on how to do this.
Is the water safe to drink at the villa?
The water supply for the villa is rainwater that has been treated with chlorine and filtered.  The bottled water in the office-style water cooler tastes much better so we suggest you drink that.
How well are the grocery stores stocked?
The Massy grocery store in Soufriere is reasonably well-stocked.  But the grocery in La Tourney (near the airport on the way to the villa) has a better selection. If you are very particular about something, you may want to bring it with you, or contact us to see if it is available locally.
How much do groceries cost?
Prices vary considerably, with staples like flour and sugar and local vegetables being about that same as in the US. Store-branded items run about 20-30% more expensive than in the US. Imported brand-name items (such as Cheetos) are 2-3 times as expensive as in the US. prices are in EC ($1 EC is worth about 40 cents US) and the prices you see include tax.
Can your cook make us a meal for the first night?
The complimentary welcome pack will have one roti per person for dinner and some salad. If you prefer something else, contact us and we'll let you know if it is possible and whether or not there will be an extra charge.
Are there restaurants nearby?
There are a number of restaurants within a 10-20 minute drive of the villa, from food trucks to fine dining. If you wish to eat at the villa, our housekeeper can cook for you or you can have our driver get carryout for you.
Will there be insects or other creatures in the villa?
Yes. Since the villa is not sealed, you will get some "visitors" that can get in under the doors. Some are helpful and cute, like the cute little geckos (car insurance, anyone?) and visually similar anoles. We appreciate them – they are harmless and tend to be shy and they feed on insects. That also means we get insects in the house.
We are very sensitive to heat. How warm is it in the villa?
Nighttime temperatures cool down to the mid 70's in the winter and the upper 70's to low 80's in the winter.
To cool the house down as much as possible, turn all the ceiling fans in the house on around dusk to bring in the cooler outdoor air.
Use the bed fans (they blow air in-between the sheets) and the standing fans, and you may be cool enough to sleep comfortably. If not, the air conditioning is positioned to blow cool air on the bed and make sleeping a little more comfortable.
However, if you are very sensitive to heat, it may still be too warm, especially in summer or early fall.
Is the villa suitable for very young children?
Villa Grand Piton is a poor choice for younger children, due to our remote location at the top of a tall hill and the steepness of the grounds (for instance, the drop from the pool railing to the ground is about 30 feet), and the lack of places to play safely outdoors. The villa is not childproofed. For instance, there are 220-volt outlets up 12-18 inches from the floor which pose a serious safety hazard to small, inquisitive fingers. We also have no amenities for children (no cribs, high chairs, etc.).
Is the villa suitable for the handicapped?
Although we are not ADA-compliant, we are handicapped-friendly. The villa and parking area are on the same level, the doors are wide, and there are only three wide steps between the house and the pool.
How dependable is the WiFi?
We don't routinely have issues with the WiFi. We won't have WiFi when there are power outages, which happen occasionally. We have added a backup WiFi provider, and the system is configured to roll to the backup in case the main fails.  Since we did that, service is more reliable.  But we cannot guarantee WiFi speeds or 100% availability.  
How dependable is the electricity?
It's not as robust as we'd like it to be. So we've installed solar panels to supplement the purchased power, and have a backup generator in case of an outage. John or Kerryus will start it for you if needed.
Yes, ages 5 and up. Due to safety concerns, our home is not suitable for children under 5. Infants that have not started crawling are acceptable.
Yes, 10 pm to 8 am. These apply to all the properties on the hillside. Our staff has the right to turn your music down if we receive complaints about the noise.
Any advice on keeping insects out?
In the late afternoon, shut most or all of the doors. Don't leave lights on indoors while you are outside after dark. You can ask Alexa to turn off and turn on the lights so you don't have to fumble for a switch in the dark.
Which airport do we fly into?
Hewanorra International Airport in Vieux Fort. The code for it is "UVF".
Which airlines fly non-stop to St Lucia from the US or Canada?
I have found these direct flights in the past: Delta from Atlanta; American from Miami, Charlotte, Chicago, Dallas, and Philadelphia; United from Chicago and Newark; Jetblue from Boston, Newark, and JFK; Air Canada and WestJet from Toronto. Some of the flights operate only in high season (usually Dec – April).
On which side of the road do St Lucians drive?
The driving is on the left-hand ("British") side of the road.
How long does it take to get to the villa from the airport?
Travel time is about 50-60 minutes.
How long does it take to drive to the beach?
The nearest beaches, Anse Chastanet and the Soufriere Beach Park (also called Hummingbird beach), are a 5-10 minute drive from the villa.
Do I need an international driver's license?
To drive in St Lucia, you will either need an international license or a St Lucian driving permit. If you don't have or want to get an international license, the car rental agency will issue you a St Lucian permit at the same time you rent the vehicle (about $20 US) .
How do we reserve the driver for our stay?
Let us know that you want to hire him and we will let him know. Letting us know a week or two ahead of time is fine. You don't need a set schedule for the week – he provides a complimentary itinerary consultation on your first morning if you are using his services and not renting a vehicle.
How do we pay for the driver?
Our driver cannot process credit cards directly.  He accepts cash (US and EC dollars both accepted). His prices are all quoted in US dollars. If you don't want to bring cash or run out, you may pay us and we will pay him for you.  There's a fee for this to cover our financial costs to process and wire the money: 2% for Zelle and 5% for credit cards.
Do you have an airport shuttle?
No, but you can hire our driver to pick you up.  Let us know your arriving flight information and we'll get your pickup scheduled.  Our driver's vehicle is large enough for your group and your luggage.
What voltage is St Lucia's electricity?
The island electrical service is 220V. But we have both 220V and 110V (U. S.) service throughout the villa. You will not need an adapter or a transformer if you are from the US, Canada, or the UK.
What language is spoken in St Lucia?
The official language is English, with a French-based Creole patois spoken by many St Lucians in addition to English.
What currency is used in St Lucia? May I use US dollars?
The official currency of St Lucia is the Eastern Caribbean dollar (EC$). The bank exchange rate is right around $2.70 EC to the US$ (37 cents US = one dollar EC). The US dollar is widely accepted but usually at a lower exchange rate ($2.50EC per $1 US).
What are the tipping/gratuity customs in St Lucia?
The St Lucian culture follows England, with a 10% service charge added to many bills such as at restaurants and bars. So tips are not nearly as expected as they are in the United States. We frequently add a bit, especially if they were extra-pleasant or did something extra for us. If our bill doesn't show a service charge, or we aren't sure, we still tip, but usually 5-10%. The average hourly wage in St Lucia for those in the tourism industry is about the same as a Starbuck's grande latte, so we know a little extra is appreciated.
Is the water safe to drink in St Lucia?
Yes. Most travelers have no issues with the drinking water anywhere on the island.
St Lucia is not like Jamaica – it's generally a safe place. We've never had any issues at the villa, and our guests have never had any issues during their visits.
Of course, use common sense: don't wear expensive jewelry, don't leave your valuables unattended, don't flash wads of cash around, don't go down dark alleys,  don't go in search of illegal drugs (marijuana is illegal), and don't invite people back to the villa.
Are there mosquitoes and other bugs in St Lucia? Can I get a disease from a mosquito?
St Lucia is in a very temperate climate and much of the island is a rainforest, prime conditions for bugs to thrive. We have methods to try to control their population but we can't eliminate them entirely.
Some mosquitoes in St Lucia can transmit diseases. However, they have to bite someone with the disease and then bite you to give you the disease. This kind of mosquito does not usually fly more than about a quarter of a mile, so being in places of low population density (such as at Villa Grand Piton) lowers the likelihood that a mosquito will bite an infected person and then fly far enough to bite you and transmit the disease. So although it is possible, it is unlikely.
How to prepare for the trip
Should I bring any local currency with me?
We suggest you wait until you arrive. There is a currency conversion place at the airport just past the Immigration stands to the right and an ATM in the airport arrivals hall after clearing Customs.  You can also use US dollars, but the exchange rate is slightly worse than the bank rate.
My passport expires within six months after my arrival date – is that a problem?
There's inconsistent information on this, so, to be safe, we recommend that your passport be valid for at least six months after your arrival date. The airlines may deny you boarding if your passport expires sooner than that.
How much cash should I bring with me?
Most tourist-oriented places accept credit cards. For tipping and incidentals, $100-$200 US should suffice. We usually take $100US with us and then withdraw $500 EC (around $200 US) from an ATM for spending money while we are there. 
Add to that what you plan to spend on driving or for cooking/meals.  We're happy to help you make an estimate on that before you arrive.
There are ATMs nearby but they are not a reliable source of cash (they run out quickly), and you can pay us with a credit card or Zelle if you run out of cash to pay for services (cooking/meals/driving/massages), although there is a 2-5% transaction charge for that to cover the financial fees we are charged.
Do I need to have an international phone plan?
If you want to be in constant contact using your existing number, you will need an international plan. Most service providers will sell you a short-term international plan. If you don't mind a temporary, local number, you can purchase a SIM card in St Lucia if your phone is "unlocked". If you don't need constant connection, a free alternative is to install "WhatsApp" which allows you to make calls and send texts, pictures, and voice messages all via WiFi. Your friends and family will have to install WhatsApp, too.
Do I need an international driver's license?
To drive in St Lucia, you will either need an international license or a St Lucian driving permit. If you don't have or want to get an international license, the car rental agency will issue you a St Lucian permit at the same time you rent the vehicle (about $20 US) .
Yes, you need a passport.  We suggest it be valid for at least six months after your arrival date.
Why do you have a night caretaker?
Our night caretaker is there for several reasons. Mostly, it's in case you need something at night. For instance, one time the water pump failed at 8 pm at night (we are on cistern water), and he was able to get it started again. He also can start the generator in case of power failures or let you in after dinner if you forget the keycode. The infrastructure is not as robust as in the US, and our staff does not have vehicles (many people do not in St Lucia), so by having someone there at night we can make sure you are well taken care of.
It is also partly a security measure. We haven't had any issues, and the villa locks up securely. But the villa is located in a fairly secluded area at the top of a hill in a forest, and most of our guests find that having someone there gives them a little extra peace of mind.
What hours do the staff work?
We are staffed basically around-the-clock, just as a hotel always has staff on-site . Doxie and/or Kerryus show up at about 9 o'clock in the morning but wait outside on the driveway until you open the back doors. They will most likely be at the villa until mid to late afternoon. John, our night caretaker, arrives shortly before dusk and remains outdoors overnight, just in case you need something, until about dawn.
What days do the staff work?
There is some staff member there basically around the clock, every day of the week, just like at a hotel.
Doxie sets the schedule of the staff for the week. She may switch up roles from time to time to give people time off and she may take a day off occasionally. If you want to know the schedule, discuss it with Doxie.
We don't want the staff. May we tell them to stay home?
The villa is not available for rental without the staff. Our standard of service is that someone is on site around-the-clock to maintain our property (which takes a lot of time in the Caribbean climate) and be there in case you have a question, or to assist in case something unexpected happens, such as a power outage.
Our staff is also there to ensure you have a memorable stay and address any issues you have as quickly as possible. According to a recent industry study, one in ten travelers visited the emergency room while on vacation. We sincerely hope nothing happens to any of our guests, but we want you to rest assured that our staff can quickly get help for you at any time of the day or night in case you need something.
May we make requests for changes to the schedule?
Yes, you may. Doxie sets the schedule. But you may not send the staff home without Doxie's permission. For instance, if you are planning particular days to be out and prefer the villa to be cleaned when you are not there, please let Doxie know your schedule and preference, and she will work to try and accommodate your scheduling request. Keep in mind that she will have to be at the villa on days you want her to cook dinner.
Is the cost of the staff included in the rent?
Yes, for the standard services of cleaning, maintenance, caretaking, and general assistance. Cooking and meals are not included. The driver and masseuse are not employees of ours, so their services are extra.
Does the staff live on-site?
No. They all have their own homes nearby in the Soufriere area. Our night caretaker will be on the property overnight, but you'll probably not see him much unless you need him.
Do you guarantee that all the amenities will be available during our stay?
We wish we could, but that is not possible in St Lucia. There's no Amazon Prime or Lowe's or WalMart. We have spares or extras for many items, but not all.
The villa has free WiFi throughout, extending to the gazebo and covering the pool area.  Although we have two WiFi providers with the system configured to roll to the backup in case the main fails, we cannot guarantee WiFi speeds or 100% availability.
Do you provide snorkel gear?
Yes, we have snorkel gear for your use. We have standard masks, full-face masks, fins, snorkels, snorkel vests and carrying bags.
What other items may I use on my activities?
Beach towels, beach chairs, beach umbrellas, sunglasses, regular umbrellas and rain jackets. Coolers and ice packs, metal thermoses, and melamine dishes and plastic glasses for picnics. Binoculars and a tripod.
Do you supply coffee and tea?
Yes, we supply local coffee ("Green-Gold") and a selection of teas. We try to stock coffee beans for the expresso maker, but it's not available locally so we sometimes don't have any.
Yes, we have cable TV from a local provider.  It has many stations, but we cannot guarantee your favorite station will be included. They also sometimes block ("geofence") major sports events.
What kind of coffeemaker do you have?
Mr Coffee drip coffee maker, DeLonghi espresso/cappuccino machine, French press and single-cup pour-over. We do not have a Keurig or equivalent.
What small appliances are in the kitchen?
On the countertop or the maple cart shelves: Mr Coffee coffee maker, espresso/cappuccino machine, NutriBullet blender, Ninja blender (best for frozen drinks), four-slice toaster. In the pantry or in cupboards, you will also find: electric hand mixer, pasta maker (manual), ice-cream maker, InstantPot, waffle maker, French press and pour-over coffee maker. 
What major appliances are in the kitchen?
Large refrigerator/freezer with icemaker, smaller refrigerator/freezer for guest use exclusively, dishwasher, electric cooktop, microwave oven, countertop oven (we do not have a built-in oven). There is a large propane grill on the deck.
What if I forget my toothbrush or toothpaste?
If you forgot your toothbrush, toothpaste, razor or a comb, we have them set out in the makeup areas in the bathrooms.  If you don't find what you need, ask Doxie.
Do you have outdoor speakers for our use?
Yes, we have waterproof speakers that will pair via Bluetooth to the Echo Dot so you can access our Amazon Music Unlimited subscription. Please leave the light-blue cylindrical speakers on-site and do not connect them to your device.  For your device or taking to the beach, we have a darker-blue speaker (with a bottle opener!) for your use. Instructions are on the desk in the living room.
Do you have any books or board games?
There is a bookcase of books in the study area. There are playing cards and some board games in the TV room in the storage unit near the door.
Yes, we've set up Alexa for your convenience. You can play music (with our Amazon Music Unlimited subscription), control the lights throughout the house, ask for information about the villa (we've programmed answers to some questions), or get general information, such as the status of your departing flight.
Do you have a washer and dryer?
We have a washer and dryer next to the refrigerator behind the louvered doors.  Please ask Doxie for directions on how to use them.
Yes, on the back deck we have a large stainless-steel propane grill with six burners and an infra-red side burner.
Do you have a computer or printer we may use?
Yes, we have a desktop computer and a printer.  Although we try to ensure their availability, we cannot guarantee it.
Do I need to bring toilet paper or cleaning supplies?
Do I need to bring my USB adapter to charge my phone?
No, we have USB ports near the beds and several other places in the villa, and we have several types of phone charging cords.
Do I need to bring my own soap and shampoo?
No – don't worry about the basics. We provide: shampoo, conditioner, body wash, hand soap, toilet paper, Q-tips, dishwashing detergent and paper towels. If you forget your toothbrush, toothpaste, razor or a comb, ask Doxie when you arrive and she'll get you some.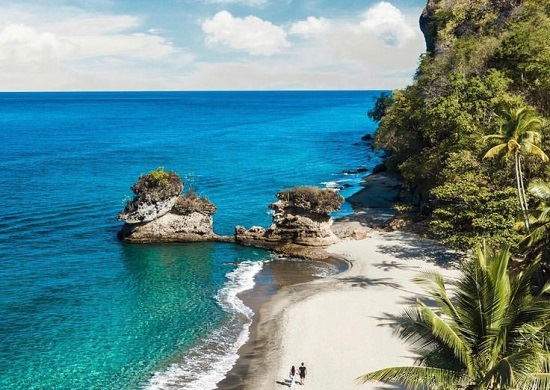 There are lots of water and beach activities in St Lucia: beaches, snorkeling (including night snorkeling), diving, boat tours, dolphin and whale-watching, deep-sea fishing, wind or kite surf, day sails up the coast, and sunset sails on catamarans.
Rainforests and hilly terrain provide lots of great land activities.  Climb a mountain, go zip-lining, ride ATVs or mountain bikes, tour ruins, walk through gardens or to stunning viewpoints, splash in a waterfall or the mud baths, visit a volcano, or take a Segway tour.
Even though St Lucia is known for her outdoor beauty and activities, there are things to do indoors, too:  get a spa treatment (even without leaving the villa), shop for souvenirs, tour churches or art galleries, or do a little duty-free shopping.